Philanthropy allows the Institute on Aging to innovate, expand and increase access-to-care in ways that would not be possible through daily operations alone. Together, our staff, donors and volunteers form a powerful and healing partnership for our community. Please consider designating your gift to one of the Annual Priority Programs below, or simply make an unrestricted gift that we may use wherever the need is greatest at the time. Our seniors and adults with disabilities need you.
IOA's Program of All Inclusive Care for the Elderly (PACE) serves adults 55 and older so they can continue to live at home for as long as possible. Under contract with On Lok Lifeways, the health plan provides fully integrated medical care (physicians and hospitals), prescription drugs, adult day care, personal care, rehabilitation, transportation, home delivered meals and home care.
IOA's Community Living Program helps individuals with limited incomes transition out of hospitals or nursing facilities and back to living independently in the community. The program also provides services to individuals at home who are at imminent risk of institutionalization. Case managers support clients throughout the transition and then on a long-term or intensive basis as needed at home.
The Friendship Line at IOA is the country's only accredited 24-hour, toll-free telephone hotline and warm-line for older adults, adults with disabilities, and their caregivers. Callers may be depressed, bereaved, lonely, abused, and/or suicidal. At our on-site Call Center, IOA's specially-trained and supervised volunteers handle over 100,000 incoming and outgoing calls each year.
IOA's community education and professional training activities include conferences, workshops, and presentations for healthcare and social work professionals, home care workers, family caregivers, volunteers, and the general public. Topics range from end of life care and decision making, to aging and technology, to public awareness campaigns on elder abuse, to art and dementia training.
More than 200 members of the community annually serve as IOA volunteers, contributing approximately 43,000 hours with a value of more than $1 million. IOA welcomes individuals and groups of volunteers providing one-time, occasional, or on-going volunteer service. Volunteer opportunities include crisis hotline volunteers, musical performers, artists, friendly visitors, peer mentors, office support, data entry specialists and teen volunteers.
The Institute on Aging's Elder Abuse Prevention Program provides education, outreach, advocacy, and strategic partnerships to prevent and respond to the abuse of elders and dependent adults in the San Francisco Bay area. Each year we provide over 50 workshops that train nearly 800 professionals and over 100 members of the public on how to detect, prevent, and report elder abuse occurring in the community and at long-term care facilities.
The Institute on Aging provides personalized care for aging adults in the comfort of their own homes, bringing together resources, education and services to help them remain independent for as long as possible. IOA is a state-licensed home care agency with carefully screened, bonded and insured home health workers. Beginning with a comprehensive assessment, we create an individualized plan of care that emphasizes dignity, independence and peace of mind.
IOA CONNECT is a call center providing free multilingual expert consultation, advice, and referrals for seniors, adults with disabilities, their families, neighbors, and caregivers. Social workers, physicians, and other professionals also use CONNECT for information on health care services, social services, financial aid, Alzheimer's services, crisis assistance, and other topics of concern to older adults.
IOA offers emotional support services that help both seniors and their caregivers cope with issues related to aging. These comprehensive services include 24-hour telephone support and crisis line, grief counseling (private and group settings), consultation on end-of-life care, home psychotherapy, and counseling for seniors experiencing depression, anxiety, or family strain.
IOA is also a learning center for psychology graduate students completing their doctoral studies at local colleges and universities. The award-winning practicum-level internship program offers expert training and experience with culturally diverse clients to build the next generation of geriatric mental health professionals.
The Social Day Program at IOA enables older adults to remain active and engaged in life. Our staff specializes in supporting those with physical and cognitive challenges, and the daily routine helps clients at any stage of memory loss. Families also benefit with respite counseling, and Alzheimer support group opportunities. Transportation, a healthy lunch, assistance with activities of daily living, and programs specially designed to stimulate and enhance vitality are all part of the social day
experience.
Explore More Resources and Articles
Questions?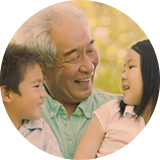 Simply call Institute on Aging Connect at
415.750.4111
or
650.424.1411
. Our dedicated Client Service Specialists are ready to help.