Cable Car Caroling
We are sad to announce that we are cancelling Cable Car Caroling this season. Due to the COVID-19 pandemic we are opting to continue to do our best to protect the aging adults we normally sing to, and therefore won't be having the event this year.
As you can imagine, this pandemic has left many seniors feeling isolated and vulnerable. In response, we have greatly expanded the Friendship Line, a warm line for lonely older adults to connect with someone. The demand for Friendship Line is greater than ever and we have added many new volunteers and staff to meet the need of these isolated individuals.
Even though we can't gather in person this year, we hope you will continue to support the Institute on Aging with a personal donation.
Explore More Resources and Articles
Questions?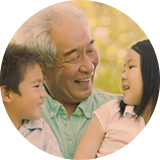 Simply call Institute on Aging Connect at
415.750.4111
or
650.424.1411
. Our dedicated Client Service Specialists are ready to help.