Cable Car Caroling
Typically, during this time of year you would be receiving your Cable Car Caroling invitation in the mail and our staff would be in the midst of coordinating visits to the many sites we sing at and garnering raffle prizes.
But this year we find ourselves in a very different position than in previous ones. The COVID-19 virus has had an immense global impact that not only prevents us from gathering together but targets the seniors we look forward to visiting year after year. Therefore, we are sad to announce the cancellation of Cable Car Caroling this season.
While we cannot visit our favorites older adult locations this year, you can see how the need for the Friendship Line is greater than ever. COVID-19 not only puts those we serve at greater risk but separates them more than ever from social connections. Seniors all over California are experiencing the effects of isolation and loneliness after so many months of sheltering in place.
If you would still like to support the Friendship Line during this pandemic, please consider a donation today. Your support goes a long way in improving lives!
Explore More Resources and Articles
Questions?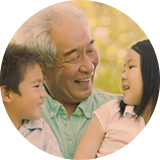 Simply call Institute on Aging Connect at
415.750.4111
or
650.424.1411
. Our dedicated Client Service Specialists are ready to help.