The Community Living Connection program (CLC) assists Santa Clara County individuals with limited incomes to transition out of nursing facilities and back to living independently in the community. CLC also provides services to individuals living in the community, or those who are in acute care settings, that are at imminent risk of institutionalization. CLC staff work to ensure that individuals are connected to all available community resources, stable housing, and appropriate healthcare services to support their ability to live at home safely.
CLC is funded by the County of Santa Clara through the Department of Aging and Adult Services. Please call 408.474.0680 for questions regarding eligibility criteria or to make a referral.
Referrals
Phone: 408.474.0680
To make a referral right now, please fill out the Community Living Connection Intake Form.
Our Community Living Services
Explore More Resources and Articles
Questions?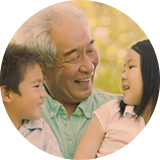 Simply call Institute on Aging Connect at
415.750.4111
or
650.424.1411
. Our dedicated Client Service Specialists are ready to help.