The Community Living Connection program (CLC) assists Santa Clara County individuals with limited incomes to transition out of nursing facilities and back to living independently in the community. CLC also provides services to individuals living in the community, or those who are in acute care settings, that are at imminent risk of institutionalization. CLC staff work to ensure that individuals are connected to all available community resources, stable housing, and appropriate healthcare services to support their ability to live at home safely.
The Community Living Connection Program operates in partnership with the Santa Clara Valley Health and Hospital System, Santa Clara Family Health Plan, the Health Trust through the California Department of Health Care Services Whole Person Care Pilot and the Santa Clara County Department of Aging and Adult Services.
Three-Pronged Program Approach
Coordinated Case Management – CLC connects clients to community services such as transportation, meals, personal care, housing assistance, etc.
Purchase of Services – CLC provides needed resources and services, not available through any other mechanism, to CLC participants.
Housing Retention and Placement – CLC connects clients to appropriate community-based housing.
Groups Served
Individuals living in long-term care facilities who could return to living in the community with appropriate housing and support services
Individuals in acute care or short-term rehab settings being recommended for long term placement, but are willing and able to live in the  community
Individuals in the community determined to be at imminent risk of institutionalization, who are willing and able to remain living in the community
Eligibility Criteria
Resident of Santa Clara County
18 and older
Individual willing to live in the community with appropriate supports
Have demonstrated a need for service and/or resource that will serve to prevent institutionalization or enable community living
Assistance needed with at least 2 ADL's or 3 IADL's
Medical conditions must be able to be managed in the community
Have income up to 300% of Federal Poverty Level
Referrals
Phone: 408.474.0680
To make a referral right now, please fill out the Community Living Connection Intake Form.
Explore More Resources and Articles
Questions?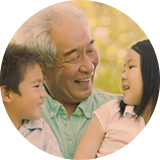 Simply call Institute on Aging Connect at
415.750.4111
or
650.424.1411
. Our dedicated Client Service Specialists are ready to help.