Institute on Aging has an app that can help you coordinate all of you or your loved one's care needs. Our Senior Care Manager app keeps information secure and up-to-date, keeps track of medications, and provides alerts to caregivers, friends, and family. You can manage prescriptions, appointments, and ensure everyone stays informed and on-call. Our app helps you stay organized wherever you go so that you can provide the best possible care for your loved one. You'll always have an up-to-date list of when, and how much medication your loved one needs, access to important contacts, and even your loved one's important insurance account information in case of an emergency.
Features
Journal- a handy notebook that you can use to record any observations or set reminders about caring for your loved one.
Calendar- keep track of all your loved one's important dates and appointments
To-do lists- for anything from grocery lists to managing your loved one's busy schedule
Contacts- have a full list of important personal and medical contacts to ensure the best, on-call care
Manage Medications- keep track of how much, and when your loved one needs to take important prescription medicines
Notes- you can store insurance numbers, instructions such as dietary restrictions, and other important info
Photos & Files- you can scan in and take photos of medications to set reminders for each dosage.
Private Sharing- share the most important and updated information with your loved one's inner-circle of caregivers and friends.
I can't buy peace of mind, but now I can download it.
Taking prescription medication can be potentially dangerous if it isn't managed correctly. Forgetting or taking too much of a medication will lead to negative consequences for your loved one. Additionally, different medicines might react poorly with one another leading to adverse effects. Pharmacists often prescribe strict regimens of medication to space them out so that they don't combine and produce harmful side effects. Why not use a tool specifically designed to helps you avoid any of these negative consequences, and helps quell your fears.
You can stay coordinated by sharing secure access with family and caregivers to ensure everyone is "in the know" when it comes to your loved one. You can also keep in touch using a private journal to update trusted family and friends. The app will provide notifications about each new update. You can keep informed about any questions related to aging through our team of trusted geriatric and financial experts here at IOA. Our app is here to help you by providing an easy-to-use platform to help ensure the best care for the people who you care about most.
App Under Development. Check back soon
Senior Care Manager from Institute on Aging is powered by CareZone. Your family's information will be safe and secure.
Explore Articles on Home Care
Questions?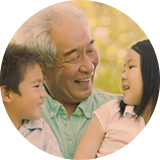 Simply call Institute on Aging Connect at
415.750.4111
or
650.424.1411
. Our dedicated Client Service Specialists are ready to help.