The Institute on Aging's Fiduciary Department helps aging adults maintain their independence and financial peace of mind. Our experienced fiduciaries hold our clients' absolute trust and confidence.
We can serve in the following legally designated capacities:
Trustee, including Special Needs Trustee;
Executor/Personal Representative;
Agent under Power of Attorney for Financial Management;
Trust Protector and
Representative Payee
We work with your attorney and wealth manager to create an estate plan that's exactly right for you. Our goal is to assure you that assets will be carefully managed in the event of future illness, incapacity or death.
We're able to serve as trustee, executor or financial agent when:
there is no family or trusted friends to appoint as trustee, executor or financial agent;
financial duties are too complex or time consuming for relatives;
appointing one family member to manage assets may lead to family conflict;
there has been elder financial abuse;
or the client no longer wishes to manage their own assets.
I don't think my father can handle his own finances anymore.
We also provide daily money management, including: Managing mail, paying bills, reconciling bank statements, preparing budgets, organizing tax information and filing insurance claims. We can advocate for you with financial institutions, pension plans, insurance companies, government agencies and other service providers.
Institute on Aging staff are members of the Professional Fiduciary Association of California, and we strive to exceed its stringent educational, ethical and experiential standards.
To learn more about how we can help or to schedule a free 30 min phone consultation, call us at 415-750-4111 to schedule a free half-hour phone consultation.
Explore Articles on Financial Services
Questions?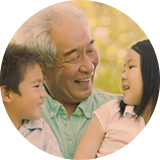 Simply call Institute on Aging Connect at
415.750.4111
or
650.424.1411
. Our dedicated Client Service Specialists are ready to help.