We want to let you know that our Home Care services are an "essential business" and remain committed to providing essential non-medical in-home care during the COVID-19 pandemic. We have an excellent team of Home Care Aides that have been fully instructed on the CDC's, DPH's, and the WHO recommendations for working with clients to prevent the spread of COVID-19. We are honored to be able to provide services that can help seniors limit their exposure to the virus and receive individualized support and care.
The Institute has worked with our home care aides to teach them how to best protect themselves and clients from the virus using Centers of Disease Control (CDC) and Department of Public Health (DPH) standards and protocols.
Home care aides have been instructed to immediately contact our office if they feel ill and are not to return to work until cleared. (Many of our home care aides are offered full benefits and qualify to use sick time if they are ill.)
Clients are screened telephonically for symptoms prior to any in person visit.
Home care aides are instructed to report any evidence of symptoms within a client's household.
We supply gloves and masks to our home care aides and they are instructed to bring them to their shifts.
PPE (Personal Protection Equipment. i.e. masks) usage and protocols are used in accordance with the latest recommendations.
We are providing updated information and precautions to our Home Care Aides as information comes in from the local Health Department, CDC and WHO.
Please call us (415.750.4111 or 650.424.1411) with additional questions or more information on home care services.
Institute on Aging provides personalized care for aging adults in the comfort of their own homes. Certified clinicians supervise caregivers who work one-on-one with clients. The expert caregivers and program directors meet clients and their families to design and implement a personalized home care plan. Licensed, bonded, and insured caregivers are on call 24 hours a day, 7 days a week.
Clients and their families can customize their home care, choosing services including:
Companionship
Hourly or 24/7 live-in care and overnight assistance
Dementia and Alzheimer's care
Home safety evaluations
Meal planning and preparation
Escorted transportation, errands, and accompaniment & light housekeeping
Who's going to take care of my mom when she comes home from the hospital?
Institute on Aging Accepts Long Term Care Insurance
You select the home care services (licensed, bonded, and insured) that best suit your need.
We apply rigorous standards to our home care services. Institute on Aging's caregivers are skilled and experienced. Each caregiver is carefully screened, bonded, and insured; supervised by our professional clinical staff; and provided with ongoing education so that you receive the very best in home care. As the employer of record, we are responsible for all scheduling, payroll taxes, state disability, and worker's compensation insurance. Our employees receive health and dental benefits and regular wage increases, resulting in a low turnover rate. Our home care support staff is on call 24 hours per day, 7 days per week.
Explore Articles on Home Care
Questions?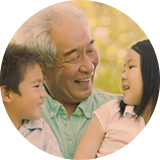 Simply call Institute on Aging Connect at
415.750.4111
or
650.424.1411
or complete the form below. Our dedicated Client Service Specialists are ready to help.