The Institute on Aging helps older adults who need dedicated care remain at home and out of nursing facilities. The Multipurpose Senior Services Program (MSSP) aids San Francisco residents over the age of 65 who prefer to live at home, rather than in a nursing facility. We help provide skilled nurses and friendly social workers that collaborate to help each client. When aging presents serious health concerns that make it challenging to do the normal activities of daily living, it can make living independently a difficult task. Things like getting to medical appointments, taking medications, preparing meals, maintaining self-hygiene, and managing finances become a difficult task. For individuals facing health challenges, MSSP offers support to live at home by monitoring chronic health conditions, coordinating medical care, securing additional in-home support, and assisting caregivers and their families with navigating the available of services in their community.
MSSP is available at no cost to all San Francisco residents:
65 or older
Medi-cal eligible
Eligible for nursing home placement (assistance needed in 2 or more activities of daily living)
MSSP is available at no cost to all San Francisco residents:
Through the care management of MSSP, a nurse and social work care manager conduct an initial house call to assess the individual's health, psychosocial, environmental, and rehabilitation needs. The social work care manager helps the individual develop a community living plan to coordinate and facilitate what health and social services they need, while also providing a continuity of care and support so the individual can remain living in their desired home environment. MSSP Care management can connect you to community services and provide the following: transportation, medical care coordination, respite care, home safety modifications, legal assistance, senior companionship, home delivered meals, money management, day activity programs, housing assistance, psychological support services, government benefits, and emergency help with problems such as abuse or eviction notices.
I want to keep living at home,
but I need some help to do so.
Referrals
Phone: 415.750.4111
To make a referral right now, please fill out the Multipurpose Senior Services Program Intake Form.
Care management services are available in English, Russian, Spanish, Cantonese, Mandarin and translation services are available.
Explore More Resources and Articles
Questions?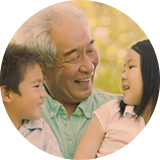 Simply call Institute on Aging Connect at
415.750.4111
or
650.424.1411
. Our dedicated Client Service Specialists are ready to help.