We support individuals who find connecting within the community challenging
Many older adults are struggling with depression or anxiety as they cope with changes related to aging, or with learning to live with a disability. It's important that caregivers and friends reach out for help if the individual cannot do so. It's equally important to know that there are people who can help, especially with any negative feelings or emotions associated with growing older. Depression is often a significant risk factor for many other health problems, including suicide.
But you don't have to struggle alone. The Institute on Aging's trained clinical staff is ready to work with you or someone you know who might be experiencing mental or emotional distress.
What kind of therapies does Institute on Aging offer?
Cognitive Behavioral Therapy - working to change unhelpful thinking and behavior
Problem Solving Therapy - helping by teaching the effective management of negative effects of stressful events that can occur in life
Supportive Therapy - working to improve or reinforce self-esteem, self-reliance, and psychological well-being
Reminiscence Therapy - trying to achieve happiness through positive reminders from an individual's past life experiences.
Sleep and Relaxation Coaching - helping to slow down anxious and stressful thinking to allow for peace of mind, relaxation, and rest
Pain Management Therapy - offering treatment in place of medication that helps with chronic pain associated with aging or from disabilities
Bereavement Therapy - helping to come to terms with the loss of a loved one, or with significant lifestyle changes
Institute on Aging utilizes evidence based interventions to address symptoms. This may include weekly psychotherapy over a short period of time or longer term interventions. The therapist will work with the client to look at factors contributing to their situation, assess how those affect the client's life, and offer new ways of dealing with the changes that are causing the symptoms. Through a collaborative approach, therapists can offer a new perspective and alternative ways to continue leading a meaningful life, while helping to provide a new outlook on life.
My mom has been very depressed lately, but I don't know what to do.
Can Institute on Aging come to my home?
Yes. Once a referral is made, a skilled Institute on Aging therapist will contact the client to explain the services we offer and set up the first appointment. We can come to your home, or we can meet in our offices.
What happens during the first appointment?
During the first appointment, a caring and experienced Institute on Aging therapist will engage the client in a conversation to determine current needs. This may involve answering questions and filling out some forms to complete the assessment. We will work collaboratively with each client to determine an individual plan.
Who pays for Psychotherapy?
Psychotherapy is offered at $50 a session for all clients.
How do I get started?
Please call Institute on Aging Connect at 415.750.4111. Our dedicated staff is ready to help you.
Integrated Behavioral Health Services
Explore Articles on Psychology
Questions?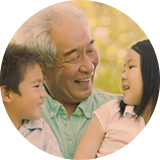 Simply call Institute on Aging Connect at
415.750.4111
or
650.424.1411
. Our dedicated Client Service Specialists are ready to help.