Helping people with disabilities live independently at home
If you are struggling with living independently because of a disability, Institute on Aging's Linkages program can help. We serve low income disabled San Francisco County residents to find the services needed to ensure independent living. While independence and self-reliance are wonderful, some of the tasks of living independently might be difficult.
Linkages can assist you with all areas of home life, be it be installing grab bars in the home, helping with shopping, and even providing interesting day activities. Through the Linkages program, a social worker visits you in your home to determine with you what services you require. Linkages provides longer term care management by masters level or licensed social workers, and includes psychologists and nurses as part of the team. We will work with you to develop a care plan that best meets your needs.
To qualify, you must:
Be an adult 18 and older
Be a San Francisco county resident
Be at-risk for institutionalization
Have an identified need for care management services
To make sure that you are getting everything you need, a licensed IOA social worker will stay in close contact with you, adjusting your care plan as necessary until your needs are met. If something isn't working, we can help get it fixed. Independent living is important, and securing effective care is sometimes expensive. We can help find a way for you to remain independent, and live within your means.
Linkages is available to low income disabled San Francisco residents, 18 and older who are unable to manage their care by themselves. We can connect you with a wide array of services including: transportation, home safety modifications, medical care, home care and housekeeping. We can help find you legal assistance, home delivered meals, money management, day activity programs, and vocational skills. We even help find senior companionship, housing preservation assistance, counseling, assistance with securing government benefits, and help with problems such as abuse or eviction notices.
Can someone help me find all of the services available to me as a person with a disability?
Potential clients must first undergo an eligibility screening process through the Department of Aging and Adult Services. Afterwards, our care managers will assess client's needs, develop a service plan, and then work to maintain or return them to a safe, stable, independent way of life.
Eligibility criteria can be confusing. Please call the Department of Aging and Adult Services (DAAS) Intake and Screening Unit at 415.355.6700 with any questions.
Our Community Living Services
Explore More Resources and Articles
Questions?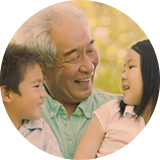 Simply call Institute on Aging Connect at
415.750.4111
or
650.424.1411
. Our dedicated Client Service Specialists are ready to help.