Age at Home with On Lok Pace
Full-service healthcare and senior services
Get all the care you need to stay healthy and independent
On Lok founded the Program of All-Inclusive Care for the Elderly (PACE), a nationally recognized program created to empower seniors to age with dignity in the community, instead of a nursing home. Since 1996, On Lok has successfully contracted with IOA to offer On Lok PACE at IOA.
Our full-service healthcare program includes medical, home care, transportation, meals, and more. Services are provided at our center or in the safety of your home, within a caring community committed to your health and well-being.
Healthcare and supportive services—all in one program
Our team of healthcare professionals creates personalized care plans for each participant. Covered services include, but are not limited to:
Our healthcare plan covers all your Medi-Cal and Medicare services, plus more.
Our medical program includes:
Doctor visits
Medical specialists
X-rays
Emergency / Urgent care
Hospital care
Medication
Nursing home care
Empowering you to live your best life, at any age
Call us today to learn more about how we can support your health and independence.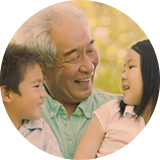 Simply call Institute on Aging Connect at 415.750.4111 (TTY: 711) or 650.424.1411. Our dedicated Client Service Specialists are ready to help.