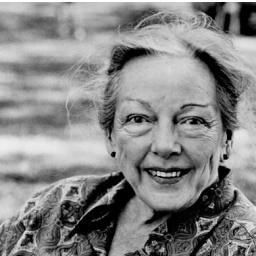 How does a place create an artist? Is there an alchemy of people, of land, sea, and sky, of earth and what's buried below, that forges a writer as much as temperament and experience? MFK Fisher grew up in the Bay Area while it was still wild, and traveled the world to become the great food writer of the century. She then returned to create a home, a life, and an unsurpassed body of work. Her incredibly productive old age demonstrated that creativity can flourish anywhere, at any point in one's life. Her story shows that embracing the changes of the years doesn't mean being stifled, but instead means new avenues for artistry.

The Early Life of MFK Fisher
Mary Frances Kennedy Fisher was born in Michigan in 1908, but her family quickly moved west, where they started a ranch. The Bay Area, where she spent her older childhood, was even more wild and rugged than it is today. A curious child, she loved poetry and wrote from an early age, keeping detailed memoirs of food, which her powerful memory helped her further recall as she got older.
She moved to France in 1928 and began a career as a writer. At the time, Paris was a hotbed of famous writers, expats living a romantic dream in that hazy and halcyon period when the world pretended war was over, but was really just gearing up for an even greater cataclysm. Fisher's world was not theirs, though; she preferred to travel and live in the small towns, and write about the people and food, and the way they ate, drank, and lived. She told beautiful and witty stories about cooks and hotel owners, and understood the human spirit in a way that her peers only scratched at.
Her books are unsurpassed in the way they describe the joy of eating, the connections we make while doing so, and what it means in the life of humans. Fisher was frequently asked, as if she was "unfaithful" to her craft, why she wrote about food, instead of war or power. In one of her memoirs, The Gastronomical Me, she answers with the force of her wit and insight.
"The easiest answer is to say that, like most other humans, I am hungry. But there is more than that. It seems to me that our three basic needs, for food and security and love, are so mixed and mingled and entwined that we cannot straightly think of one without the others. So it happens that when I wrote of hunger, I am really writing about love and the hunger for it, and warmth and the love of it and the hunger for it…and then the warmth and richness and fine reality of hunger satisfied…and it is all one."
In a series of books, including Serve It Forth and To Cook a Wolf, she made us understand what it was to eat and frankly made food sound better than anyone perhaps before or since. Her writing was sparkling and beautiful—the poet WH Auden once said of her, "I do not know of anyone in the United States who writes better prose." In truly understanding humans, she wrote of a dying continent better than many.
Bay Area Non-Retirement: A Flourishing of Creativity
"When shall we live if not now?"
After sojourns around the globe and a long stint in Southern California for the health of her husband, a widowed MFK Fisher moved to Napa Valley in 1971. She built a ranch which, with her unstinting wit and ability to see life clearly, called "Last House." It would prove to be, but not for a long time.
For the next 20 years, before her death in 1992, Fisher wrote and cooked. She wrote more memoirs, cookbooks, and wrote of time. She would have amazing dinners for friends and well-wishers. She used the earth and the land of northern California to create incredible meals. And this was the key to her keen understanding of growing older. She cooked not in an attempt to recreate fondly-remembered dishes from a long-ago youth, but to celebrate where she was, both physically and personally.
MFK Fisher, who in her day was considered by many a better writer than Hemingway or Fitzgerald, didn't believe in "her day." Her day was whatever day she happened to be alive, no matter where she was. She still wrote of the past, but also of the present, in a remarkable 13 books written after moving to the "Last House." She wrote of the joy and challenges of aging, most notably in Last House: Reflections, Dreams and Observations, published in 1991.
For MFK Fisher, all of life was a journey, one meant to be experienced to the fullest. It was one meant to be tasted. She knew that the power of aging was the ability to combine great memories and new experiences, mix them in a bowl, and create a dish to be savored.
"I am more modest now, but I still think that one of the pleasantest of all emotions is to know that I, I with my brain and my hands, have nourished my beloved few, that I have concocted a stew or a story, a rarity or a plain dish, to sustain them truly against the hungers of the world."
At the Institute on Aging, we believe that people can find their own path while aging. We work with families to provide aging loved ones with the opportunity to age with dignity, independence, and the ability to forge their own way. Contact us today to learn more.