If you or your loved one needs help with stress, anxiety, or depression, it shouldn't be a struggle to get to therapy sessions. If you don't want to make the trip to our offices at Institute on Aging, or are not able to, we can come to you. Once a referral is made, a skilled Institute on Aging therapist will contact you and arrange to meet. They will then engage you in friendly conversation and ask questions to help determine what type of care works best for your individualized needs.
The therapy we offer away from our offices is the same top-notch care you would receive here at Institute on Aging. We practice many types of therapies with proven success rates, and will work with you to make sure you are completely comfortable with the therapeutic approach we follow. There are plenty of options to try.
We practice supportive, evidence-based therapies including:
Cognitive Behavioral Therapy
Problem Solving Therapy
Supportive Therapy
Reminiscence Therapy
Sleep and Relaxation Coaching
Pain Management Therapy
Bereavement Therapy
Don't give up on seeking help just because you can't make it to a doctor's appointment, we can come to your house.
If you are depressed, anxious, sleep deprived, grieving, lonely, or grappling with substance abuse, we have psychotherapy services that can help you. All of our services are provided by fully licensed clinicians, post-doctoral fellows, and psychology trainees. Our services are provided primarily by psychology trainees as well as licensed clinical psychologists and post-doctoral fellows. Institute on Aging's psychotherapy services for clients exist on a short-term and long-term basis, and are offered at a rate of $50 a session.
How can I get started?
Phone: 415.750.4111
To make a referral right now, please fill out the In-Home and Outpatient Psychotherapy Intake Form.
Integrated Behavioral Health Services
Explore Articles on Psychology
Questions?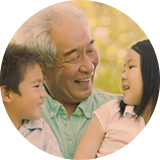 Simply call Institute on Aging Connect at
415.750.4111
or
650.424.1411
. Our dedicated Client Service Specialists are ready to help.