Frequently Asked Questions about Social Day Program
We understand that you and your family are embarking on a new chapter in life. It can be overwhelming, but know that we are here to support you. We have gathered answers to frequently asked questions so that we may start a dialogue with you about things you may need. If you have additional questions, please ask us!
I moved in with my mother when she was diagnosed with dementia—but I still work. How can I keep her safe and engaged during the day?
---
What is a Social Day Program?
Social Day Programs are a sensible alternative to full-time residential care. Our primary goal is to enhance the quality of life for older adults by offering engagement opportunities while providing relief to caregivers. We address issues of isolation, apathy, and depression which can be detrimental to an older adult's well-being. Caregivers can feel at ease to have their loved one in a safe place during the day allowing them to focus on other daily needs which can ease caregiver burnout.
---
What is the difference between social day programs and adult day health?
Social day programs are a social-model of care while adult day health provides some nursing assistance.
---
Can my loved one still take medications if required while at the center?
Of course, we are here to provide reminders and to assist participants to self-administer medicine while at the center.
---
How are you regulated?
We have a license through the California Department of Social Services.
---
Who is eligible to attend?
Anyone who wants to attend may. The program is designed to support those who cannot be left at home alone because of an illness or disability.  We specialize in programming for older adults who are living with memory loss due to Alzheimer's and other related dementias, Parkinson's, stroke or social isolation.
---
How do I know if this is the right choice?
Our experienced staff would be happy to discuss your needs and make recommendations for you. Call IOA CONNECT at 415-750-4111.  
---
May I visit the center?
Visitors are always welcome.  We encourage you to tour, as well as take advantage of a FREE trial visit for your loved one. The trial visit is a great time to assess how the center works with you and your loved one.
---
What are your hours of operation?
Institute on Aging's Social Day Programs are open weekdays from 9:00am to 3:00pm.
---
What's your rate schedule?
Rates include transportation, a light breakfast, hot lunch, and afternoon snack. The rate changes with the number days a week attended.
---
Is daily attendance required?
You may choose the days of attendance, from two to five days per week. It may be beneficial, to both the member and the caregiver, to attend at least three days a week to provide beneficial respite for the caregiver and a consistent schedule for your loved one. Often individuals with dementia benefit from the structure and consistency of attending a social day program five days per week.
---
Can we change days of attendance if needed?
Yes, we are flexible. Generally, the days of attendance are discussed at the time of the initial assessment but this may be changed to suit your needs. We would appreciate advanced notice for scheduling changes to be sure that we have appropriate staffing.
---
Is transportation provided?
Transportation is provided by Paratransit. The service is a door-to-door service with trained drivers and buses equipped to transport individuals in wheel chairs.
---
Is a physician's referral required?
No. Although many physicians recommend our program, a doctor's referral is not necessary. However, a physician-completed statement about your loved one's medical condition is required prior to the first day of attendance. This includes a TB test.
---
What types of insurance pay for services?
Most long-term care insurance policies cover social day programs; check your policy for specific information. Your loved one may also be entitled to VA Aid & Attendance benefits if he/she meets certain veteran qualifications.
---
How do I apply?
Just call to schedule an appointment for a tour and/or trial visit: 415-750-4111. During your visit, you will be guided through the enrollment process.
---
What types of activities are offered?
Programs are designed to promote stimulation and socialization for participants. We utilize the very best in engagement methodologies that include creativity, brain fitness, physical exercise, and reminiscing.  A typical day includes coffee and socialization time during the morning and afternoon along with a variety of programs, activities, and exercise. We provide a nutritious lunch in a social dining experience. Meals accommodate special diets.
---
Who will care for my loved one?
Your loved one will be in good hands. The centers have at least one staff member for every five participants. The specially trained staff at Institute on Aging's Social Day Program have the skills needed to support participants with activities of daily living.
---
Can I drop off my loved one just when I need a break?
We do not provide drop-in respite care.
---
Do you offer educational support for caregivers?
We offer a support group for caregivers, which is open to the public. Information and referrals to community services are offered free of charge as well.
---
I feel a little guilty about considering adult day care. Will it benefit my loved one as much as it helps me?
Our participating families find that their loved ones are happier, healthier, and enjoy life more because of their attendance.  Participation gives your loved one a chance to make new friends, try different activities and feel a renewed sense of purpose.   
---
My family member never was one to participate in a lot of group activities. How will I get him/her to attend? What do I do when my loved one says they are just fine at home alone and don't need day care?
It is not uncommon to see some reluctance to attending social day programs at first. After a few days, routine is established and the program becomes something not to be missed. It becomes a reason to get up in the morning; something to which we can look forward. Even people who were never particularly interested in group activities almost always adjust to the daily routines and benefit from the stimulation and opportunities for socialization. Being home alone can lead to boredom, loneliness, depression, and more health complaints.
Explore Articles on Social Day Program
Questions?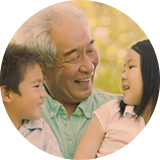 Simply call Institute on Aging Connect at
415.750.4111
or
650.424.1411
. Our dedicated Client Service Specialists are ready to help.