Support at Home is the new pilot program administered by Institute on Aging (IOA) to provide home care vouchers to keep San Francisco adults with disabilities and seniors living safely in the community. The goal of Support at Home is to serve individuals who are not eligible for other subsidized home care programs, like Medi-Cal In-Home Supportive Services (IHSS), due to income/resource limits or other program requirements.
Support at Home promotes stable community living for adults with disabilities and seniors and the values of dignity and aging in place. Support at Home is funded by the City & County of San Francisco through the Department of Aging & Adult Services.
Please call IOA at 415.750.4111 for questions regarding eligibility criteria or to make a referral.
ELIGIBILITY CRITERIA:
To be eligible for Support at Home, an individual must meet all of the following characteristics:
Resident of San Francisco;
18 years of age or older;
Require assistance with a minimum of two (2) Activities of Daily Living and/or Instrumental Activities of Daily Living;
Monthly income does not exceed 100% of Area Median Income (available at sfmohcd.org);
Assets do not exceed $40,000 (excluding house and one car);
Able to demonstrate financial and functional need for subsidized home care;
Willing to pay a portion of the home care cost;
Willing to participate in program requirements and pre/mid/post evaluations; and
Ineligible for other subsidized home care through programs such as IHSS, Community Living Fund, In-Home Operations or other state waiver programs.
Referrals
Phone: 415.750.4111
To make a referral right now, please fill out the Support at Home Intake Form.
Clients
To access the Client Orientation video, please fill out the Support at Home Client Sign-In Form.
Our Community Living Services
Explore More Resources and Articles
Questions?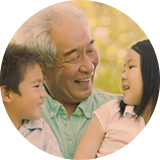 Simply call Institute on Aging Connect at
415.750.4111
or
650.424.1411
. Our dedicated Client Service Specialists are ready to help.