Sometimes people end up in living situations that are less than ideal. This is especially true later in life, when it may become more difficult to afford the high cost of living coupled with expensive health care. It might be more difficult to live independently, but that does not mean that someone shouldn't. For people struggling to get by on their own, Institute on Aging can become a support system of caring people who will go out of our way to help. IOA's community living services assist people with a limited income transition out nursing homes and care facilities, and get back to living independently.
Institute on Aging's community living services are here to help people, acting as intermediaries for those with limited finances. We also help people living with disabilities who might be at risk of institutionalization remain on their own. We coordinate with other local programs and services on our client's behalf in a concentrated effort to help encourage independent living. We specialize in finding stable housing, access to community resources, and reliable health care services. Our dedicated staff provides people enrolled in the program with the help necessary to have a better, more independent quality of life.
I didn't want to be forced into a nursing home, but I didn't think I could live alone without help.
Our community living services began in San Francisco county, but have now expanded to San Mateo and Santa Clara counties, and we hope to keep growing. Each year we help over one thousand people live independently. We apply rigorous standards to our living services, and our caregivers are skilled and experienced. Each caregiver is carefully screened, bonded, and insured, supervised by our professional clinical staff, and provided with ongoing education so that you receive the very best in home care. As the employer of record, we are responsible for all scheduling, payroll taxes, state disability, and worker's compensation insurance. We have a low turnover rate, as all our employees receive health and dental benefits, and regular wage increases. Our home care support staff is on call 24 hours per day, 7 days per week.
Our Community Living Services
Explore More Resources and Articles
Questions?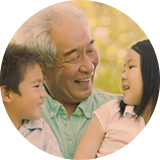 Simply call Institute on Aging Connect at
415.750.4111
or
650.424.1411
. Our dedicated Client Service Specialists are ready to help.