Institute on Aging's Community Living Fund helps lower income San Francisco County residents transition out of hospitals and care facilities so they can live independently. We help aging adults and people living with disabilities get out of care facilities if they do not belong there, or do not wish to be there.
Community Living Fund is a short-term program designed to assist individuals by connecting to needed medical and psychosocial services that will support independent living. We act as caring representatives within an extended network of programs and services, helping our clients by managing care and find secure living arrangements. For vulnerable aging adults and people living with disabilities, we can be the guiding hand that helps ensure independent living and peace of mind.
IOA's Community Living Fund also advocates for those at risk of institutionalization. Our staff works to ensure that individuals are connected to all available community resources, stable housing, and appropriate healthcare services to support their ability to continue living at home safely. We can even ensure that clients receive the proper medical equipment to support life at home. We help individuals who are at imminent risk for nursing home or institutional placement and who are willing and able to remain living in the community with appropriate support.
Potential clients must first undergo an eligibility screening process through the Department of Aging and Adult Services. Afterwards, our care managers will assess client's needs, develop a service plan, and then work to maintain or return them to a safe, stable, independent way of life.
In order to be eligible, potential clients must:
Be 18 years and older
Be a resident of San Francisco
Be willing and able to be living in the community with appropriate supports
Have income up to 300% of Federal poverty level for a single adult
Demonstrate a need for service and/or resource that will serve to prevent institutionalization or will enable community living
Be institutionalized or deemed at assessment to be at imminent risk of being institutionalized
Eligibility criteria can be confusing. Please call the Department of Aging and Adult Services (DAAS) Intake and Screening Unit at 415.355.6700 with any questions. 
Explore More Resources and Articles
Questions?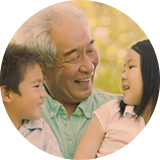 Simply call Institute on Aging Connect at
415.750.4111
or
650.424.1411
. Our dedicated Client Service Specialists are ready to help.