Institute on Aging puts an emphasis on continuous learning, and throughout the year we offer many opportunities for education. Awareness and training help you be a more effective and helpful caregiver or loved one. And while growing older might seem like a common topic, new and innovative ways for helping with the aging process are always being developed and improved upon. Learning about how to help someone is essential to helping preserve comfort, happiness, and peace of mind throughout all stages of life, especially as we grow older.
Institute on Aging fosters a community that is knowledgeable about the current trends in aiding aging adults and people with disabilities. We host a number of conferences, talks, workshops, and educational sessions that bring new discoveries and techniques to the forefront, for community members, medical experts, and psychotherapeutic professionals. These events can also be a great resource for family members, caregivers, and older adults themselves. Our IOA experts remain active in the community, both locally and nationally, providing a speaker's bureau of experts to share new and innovative techniques, and build a community of knowledge.
IOA's Dedication to Continuing Education
Part of ensuring that we provide the best possible care is maintaining a highly specialized staff of trained and certified employees. Institute on Aging has hundreds of employees and volunteers who we continuously train and educate in order to best help our clients. IOA also offers continuing education credit for maintaining licenses and certifications.
We currently offer continuing education credit for the following:
BBS (Board of Behavioral Sciences)
BRN (Board of Registered Nursing)
MCLE (State Bar of California, Minimum Continuing Legal Education)
RCFE (Residential Care Facilities for the Elderly)
IOA's education opportunities keep me up-to-date on the best practices and the new discoveries in my field.
The Institute on Aging currently works in tandem with UCSF, USF, and SFSU to offer internships to medical, counseling, and psychology students, and students interested in working with nonprofits. Our programs place students into direct, hands-on interactions with aging adults and people living with disabilities seeking IOA's assistance. Each year, student interns and volunteers successfully complete the program, and many have returned to IOA after graduation to continue their careers. We hope to provide the best possible educational experiences for both those we help and those we teach. Our hope is that they can continue that trend in best serving IOA clients, and the people they help later during their professional careers.
Explore More Resources and Articles
Questions?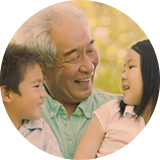 Simply call Institute on Aging Connect at
415.750.4111
or
650.424.1411
. Our dedicated Client Service Specialists are ready to help.