HCBA Waiver Overview
The HCBA Waiver (formerly the Nursing Facility/Acute Hospital (NF/AH) Waiver) was approved by the Centers for Medicare and Medicaid Services (CMS) on May 16, 2017.  Medicaid's Home and Community-Based Services (HCBS) Waiver programs, including the HCBA Waiver, are authorized under Section 1915(c) of the Social Security Act; governed by Title 42, Code of Federal Regulations (CFR); and administered by CMS.
The HCBA Waiver provides care management services to persons at risk for nursing home or institutional placement. The care management services are provided by a multidisciplinary care team comprised of a nurse and social worker. The care management team coordinates Waiver and State Plan services (e.g., medical, behavioral health, In-Home Supportive Services, etc.), and arranges for other available long-term services and supports available in the local community. Care management and Waiver services are provided in the Participant's community-based residence. This residence can be privately owned, secured through a tenant lease arrangement, or the residence of a Participant's family member.
TAR Submittal Information for Service Providers
E-TARS are not allowed at this time for this program. Providers can submit TARs using paper TAR form 50-1 and 50-2 along with supporting documentation in the following manner: Mail, e-fax, or manual fax. Institute on Aging has 30 days to adjudicate your TARS, however, our goal is to have a 10-day-or-less turnaround time.
Address TAR submittals to Institute on Aging with subject line, "TAR Submittal" to one of the following:
1660 South Amphlett Boulevard, Suite 219
San Mateo, CA 94402
Fax: 650.539-9958
eFaxCLS-SM-HCBA@ioaging.org
3575 Geary Boulevard
San Francisco, CA 94118
Fax 415-579-1740
eFaxCLS-SF-HCBA@ioaging.org
473 E. Carnegie Drive, Suite 200
San Bernardino, CA 92408
Fax 909-284-8002
eFaxCLS-IE-HCBA@ioaging.org
Provider Contracts
All providers in the IOA service areas must enter into a contract with Institute on Aging to continue providing care for waiver members. If you have not received a provider contract packet, please contact us or if you have not submitted your contract please do so immediately.
Questions?
For more information on HCBA waivers, call IOA Connect at 415-750-4111.
Referrals
Phone: 415.750.4111
To make a referral right now, please fill out the Home and Community Based Alternatives Intake Form.
Our Community Living Services
Explore More Resources and Articles
Questions?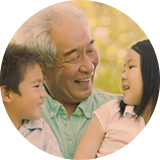 Simply call Institute on Aging Connect at
415.750.4111
or
650.424.1411
. Our dedicated Client Service Specialists are ready to help.