This project aims to help elder veterans, their survivors, and professionals that are assisting them.  On this page, we hope to:
Educate elders, family members, and professionals about pension poaching scams, including how to avoid them
Connect elders who wish to apply for the Veterans Aid and Attendance benefit to the local County Veterans Service Office
Direct elders who have been scammed to resources that can help
Background on the VA Aid and Attendance Benefit
Aid and Attendance is a benefit paid by the Department of Veterans Affairs (VA) to senior veterans, veteran spouses, or surviving spouses. It is a benefit for low wealth veterans who need financial help to pay for in-home or assisted living facility care.  It is a non-service connected disability benefit, meaning the disability does not have to be a result of service. The VA Aid and Attendance Benefit was never intended to be for every senior veteran who served during a time of war—it is not an entitlement.  It was meant only for those veterans, or their spouses, who were financially struggling at the end of their lives.
A Scam Related to the VA Aid and Attendance Benefit
Financial predators have been making large commissions by selling medium-and-high-wealth seniors unnecessary or unsuitable financial products or services. They tell the seniors that in order to get the benefit, they need to "appear impoverished," and they can accomplish that by converting their assets into their "veteran-friendly estate plan." Seniors who follow their advice end up with irrevocable trusts or financial products that tie up their money so they cannot access it for the rest of their lives, while the predators walk away with large commissions or service fees for their "help."
More information about the Veterans Aid and Attendance Benefit and Scam:
Fact sheets:
To file a complaint about the scam or scammers:
Other resources:
Recent News Articles:
Explore More Resources and Articles
Questions?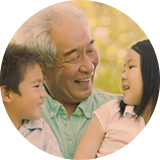 Simply call Institute on Aging Connect at
415.750.4111
or
650.424.1411
. Our dedicated Client Service Specialists are ready to help.