The 37th Annual Dinner à la Heart
Uniting Two of San Francisco's Favorite Things: Good Food and a Giving Heart.
Dinner à la Heart gives Bay Area residents an opportunity to choose a Bay Area restaurant, make reservations through Institute on Aging, and enjoy a unique dining experience, for either dinner or lunch, while supporting the Institute on Aging's programs and services. Treat yourself to an exclusive prixfixe meal and a night on the town or a day in the Bay Area. Prices range from $85 - $250 per person, including wine and coffee or tea. Proceeds from this event benefit the nonprofit Institute on Aging, helping thousands of seniors remain independent and healthy in San Francisco, Marin, the East Bay and the Peninsula.
Fourth Annual Lunch à la Heart • 12:00 PM
Gather your friends and dine out for a cause at lunchtime!
For more information on underwriting opportunities contact Constance Cheong at ccheong@ioaging.org or call 415.379.3256.
Explore More Resources and Articles
Questions?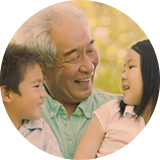 Simply call Institute on Aging Connect at
415.750.4111
or
650.424.1411
. Our dedicated Client Service Specialists are ready to help.