The 37th Annual Dinner à la Heart
Uniting Two of San Francisco's Favorite Things: Good Food and a Giving Heart.
Dinner à la Heart gives Bay Area residents an opportunity to choose a Bay Area restaurant, make reservations through Institute on Aging, and enjoy a unique dining experience, for either dinner or lunch, while supporting the Institute on Aging's programs and services. Treat yourself to an exclusive prixfixe meal and a night on the town or a day in the Bay Area. Prices range from $85 - $250 per person, including wine and coffee or tea. Proceeds from this event benefit the nonprofit Institute on Aging, helping thousands of seniors remain independent and healthy in San Francisco, Marin, the East Bay and the Peninsula.
Fourth Annual Lunch à la Heart • 12:00 PM
Gather your friends and dine out for a cause at lunchtime! Locations to be determined.
For more information on underwriting opportunities contact Constance Cheong at ccheong@ioaging.org or call 415.379.3256.
Explore More Resources and Articles
Questions?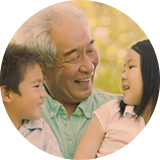 Simply call Institute on Aging Connect at
415.750.4111
or
650.424.1411
. Our dedicated Client Service Specialists are ready to help.
Participating Restaurants
Institute on Aging would like to thank the following restaurants for their generous participation:
3rd Cousin
Alfred's
All Spice
Barbacco Eno Trattoria
The Big 4
Boulevard
Buckeye Roadhouse
Bungalow 44
Delfina Pizzeria
Don Ramon's Restaurant
The Dorian
Ecco - Burlingame
Epic Steak
Farallon
Fringale Restaurant
Garibaldi' s
Gary Danko
Golden Gate Wines
Harris' Restaurant
Hayes Street Grill
Hutch Bar & Kitchen
Il Fornaio Corte Madera
Il Fornaio Palo Alto
Il Fornaio San Francisco
Il Fornaio San Jose
Izzy's Steak & Chops Oakland
Izzy's Steak & Chops San Carlos
Izzy's Steak & Chops San Francisco

Participating Restaurants cont.
Jason's Restaurant
Kokkari Estiatorio
Le Central Bistro
Le P'tit Laurent
Marin Joe's
Mezes Kitchen & Wine Bar
Mission Rock Resort
Monsieur Benjamin
Mourad
New Fillmore
One Market
Osso Steakhouse
Pack n' Ship
Palm House
Pane e Vino Trattoria
Perbacco
Piperade
Poggio Trattoria
Roka Akor
Roti Indian Bistro
Sam's Grill & Seafood
Sessions
Sixto's Cantina
Sushi Ran
Swan's Oyster Depot
Taj Campton Place
Trader Vic' s
Venticello Ristorante
Waterbar
Waterfront Restaurant