Institute on Aging helps aging adults maintain peace of mind regarding their finances. Our Financial Services program includes helping with money management and protection against financial abuse. If you or a loved one have concerns about being taken advantage of, we can assist by ensuring your finances are well accounted for by our licensed financial experts.
Our Money Management and Fiduciary Services can include:
Representative Payee
Durable Power of Attorney
Trustee or Special Needs Trustee
Executor of Estates
Conservatorships
Bookkeeping, including:

In-Home Mail Management
Bill Paying and Bank Account Reconciliation
Budgeting
Medical Insurance Filing
Organization of Tax Information
We can help you plan for and maintain your independence within a wide range of incomes and assets. Our fully-licensed and experienced financial services fiduciaries can serve and advise you. As trusted designated agents, we can legally manage all of your important affairs, in the event that you are unable to do so for yourself as a result of illness or injury. As a professional, neutral third party, we can be an advantageous choice when you do not have family or trusted friends to appoint, or if you feel these appointments may be too complex.
I don't think my father can handle his own finances anymore.
In the case of illness, incapacity, or death, our financial services experts can assist with attorneys, estate planning, investments, and bookkeeping. We work to gain and keep your trust, which makes financial management and preparation easy, for you as well as your family. We are members of the Professional Fiduciary Association of California, and we constantly work to exceed its stringent educational, ethical, and experiential standards. If you or someone you know may need this kind of help, please reach out to us today.
Explore Articles on Financial Services
Questions?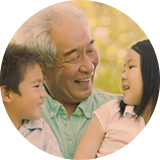 Simply call Institute on Aging Connect at
415.750.4111
or
650.424.1411
. Our dedicated Client Service Specialists are ready to help.